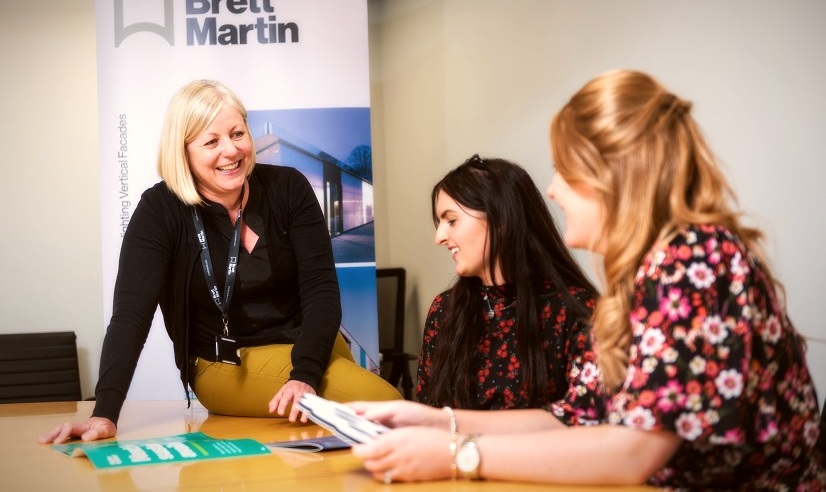 At Brett Martin we're more than just a local manufacturer. We're one of Northern Ireland's Top 100 companies and a leading player in the international plastic manufacturing market, employing more than 1000 people and with an annual turnover of over £200 million.
That kind of success is only possible with a diverse mix of talented people and it's the pride and passion of our colleagues that makes us stand out from the crowd. We're building a future that embraces innovation, sustainability, diversity, and of course, the opportunity for our 1,000+ colleagues to make the most of their careers.
We're a business that will bring out the best in you and give you the opportunity to take control of the marketing strategy and day to day running of one of the most well-known brands in the UK building materials market, Brett Martin Plumbing & Drainage.
APPLY NOW
The Role:
As a highly visible role within our business, it will be critical that the successful candidate drives the continued growth of the Plumbing & Drainage division. With your strong communication skills and ability to interact with and influence a broad range of stakeholders, you will be empowered to create, develop and drive highly ambitious marketing programmes.
Using unique business insight and internal support, you will have the confidence and the authority to be creative, bold and innovative in your approach to driving impactful plans and initiatives.
We've ambitious targets and want to maintain our continued growth within the market... and we know it's the expertise and enthusiasm of our people that fuels that growth. We want you to make this role yours and work within a progressive and dynamic team and achieve your professional goals.
The Candidate
We're looking for a creative individual that has experience working with brands, preferably within a B2B sector, where a high level of pace and agility is required. Brett Martin Plumbing & Drainage is a huge priority for the company, so the ability to foster strong stakeholder relationships will be the key to success.
You will need to provide practical marketing support to sales teams, agents, distributors/merchants and customers to achieve stated commercial objectives. This will mean that excellent communication, organisational skills and creative flair are a must for this role.
A minimum of 5 years experience in a marketing role is necessary, 2 years of which include responsibility in a Brand Manager/ Marketing Manager role with supervisory responsibilities.
Qualified Marketing Graduate or Graduate with post-graduate marketing qualification OR equivalent work experience.
A big part of the role will be managing creative, media and external agencies to deliver our campaigns on time and in full, so cross-functional project management experience is a must.
Job Responsibilities
Responsibility for the marketing output for the Plumbing & Drainage division; develop the annual tactical marketing plan and budgets for approval by the Head of Marketing.
Coordinate the implementation of the divisional tactical marketing plan and to take ownership of completing the actions necessary to deliver agreed marketing initiatives as set out on time and within budget.
To complete specific marketing support requests on time and in accordance with the budget.
Ensure timely, open and effective communication of divisional activity to the Head of Marketing to achieve a fully integrated approach to marketing throughout the Brett Martin Group.
Main Tasks and Duties
Develop and implement the annual divisional tactical marketing plan to support the wider business and merchant customers.
To monitor competitor activity, analyse market trends, interrogate internal sales information and conduct specific market research to inform divisional tactical marketing plans.
To plan, develop and coordinate the implementation of fully integrated marketing campaigns to timescale and within a specified budget, including:
Creative Development - conceptual idea generation of visual and messaging through to final implementation;
Video and CGI - agreeing brief, developing storyboard and script, overseeing production and editing;
Technical and Promotional Literature - agreeing brief, organising copy both writing it and sourcing, organising photography, overseeing design, production and distribution;
Advertising campaigns - agreeing message, organising and approving design, agreeing placement;
PR - agreeing campaigns, organising copy, liaising with PR consultant;
Exhibitions - organising exhibition attendance and exhibition displays;
Point of Sale - agreeing format and message, organising and approving design, production and distribution;
Social Media - agreeing and setting up appropriate social channels, agreeing and organising messaging/content.
Email marketing - plan and coordinate e-alert activity with the digital marketing team.
Plan and implement effective product launch strategies.
Plan ongoing content development for the company's websites.
Evaluate completed marketing activity to assess commercial impact (business benefit vs budget).
Ensure the effective communication of planned marketing activity to the Divisional Sales Teams.
To complete any other task as your role evolves.
Travel and Flexibility
Must be able to undertake travel as and when required
Benefits
Health Shield cover / Employee assistance programme
Profit related pay bonus
Service days leave after a period with the company
Free parking
Life insurance
Company pension contribution
Company-paid professional development
Reward and Recognition scheme

Employee engagement initiatives
Application:
If this opportunity sounds like the next step in your career, we want to hear from you! If you want professional empowerment, the ability to utilise your creativity and shape this role into something that is yours, submit your CV along with a cover letter outlining why you're the candidate to be the voice of Brett Martin.

We offer competitive salaries and benefits of working within a well-established and progressive company.
Brett Martin is an equal opportunities employer and applications are welcomed from all sections of the community.
If you wish to apply for the position please apply by clicking the link below or contact our HR Department hr@brettmartin.com for more information.
Click the link below to submit your CV
APPLY NOW