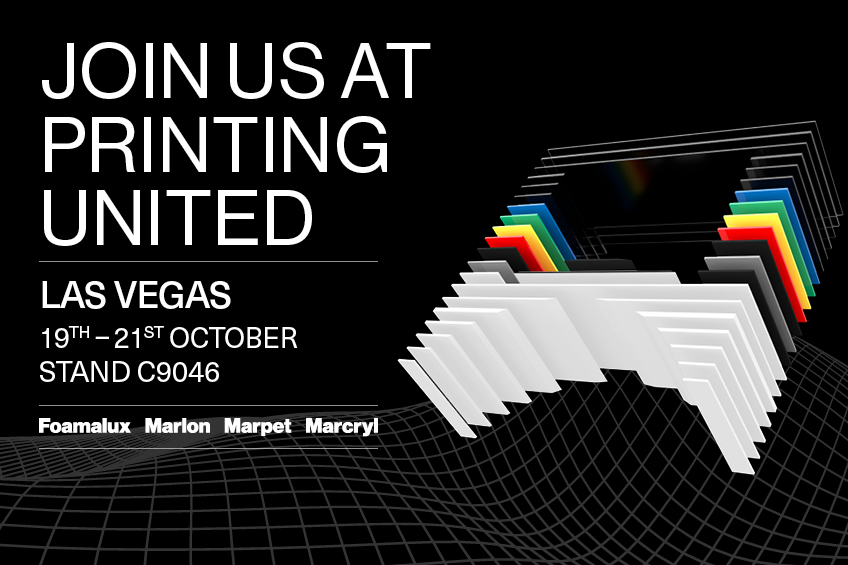 Join us at Printing United 2022 in Las Vegas 19th - 21st October
Printing United 2022 is in Las Vegas from Wednesday 19th to Friday 21st October and we are looking forward to seeing you on our stand number C9046. If you register using the link below, you will get FREE entry to the exhibition.

Click here to register for free!
We will be showing our full range of transparent and foam PVC flat rigid substrates.
Our transparent range includes Marcryl FS extruded acrylic sheet, Marpet-g FS PETg, Marpet-a FS aPET and Marlon FS polycarbonate flat sheet, including our sustainable products, Marpet-g FS Eco, Marcryl FS Eco and Marlon FS BioPlus.
On the foam PVC side we will be exhibiting our premium Foamalux White, Foamalux Light which is optimised for digital printing, all six colours of Foamalux Colour, all seven shades of our high gloss Foamalux Ultra and our two environmentally friendlier foam PVC products, Foamalux Eco and Foamalux Xtra.
We look forward to seeing you there.