Our Marlon polycarbonate for greenhouse glazing provides a technically superior product range which not only achieves the high levels of photosynthetic light transmission necessary for healthy plant growth but also combines high impact resistance, condensation control and UV protection.
Available in multiwall, corrugated and flat sheet options, Marlon polycarbonate is easily cut and can be cold curved on-site to be perfectly integrated into any greenhouse design from simple hobby greenhouses to large scale commercial greenhouses.
Maximum daylight is essential for photosynthesis. With glazing options providing up to 90% natural daylight we've got you covered. Choose from clear sheet for maximum daylight or diffusing tints to eliminate hot spots all with co-extruded UV protection which filters out over 98% of damaging UV rays.
The Marlon range of polycarbonate greenhouse glazing can be co-extruded with an optional anti-drip surface layer. This technology works to prevent the formation of water droplets on the sheets surface, reducing condensation and associated fogging.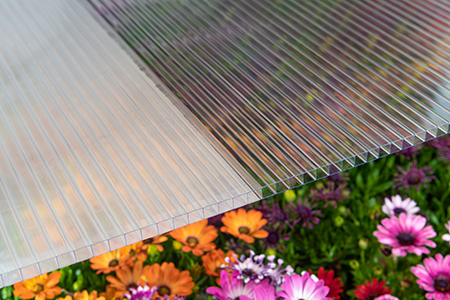 Products that work
We are a global player supplying specialist plastic roofing, glazing and cladding products for the horticulture sector for over sixty years
70+ Countries
We are a global supplier exporting our plastic sheets to distributors and customers in more than 70 countries worldwide
Sustainability
We're reducing our carbon footprint with renewable energy sources and reusing 94% of post-production waste
Easy installation
Our products have been designed for quick and easy installation
Plastics for Horticulture
Benefits
Transparent sheet options for maximum light transmission
Embossed surface finish and diffusing tint options reduce hot spots
Opaque sheet option for total solar block
UV protection filters out 98% of harmful UV rays
Anti-fog option for condensation control
Impact strength
Fire performance