Modern stadia form iconic landmarks in many cities throughout the world. As more stadia feature architecturally complex and challenging rooflight applications, designers need to source solutions and expertise that will enable them to create aesthetically pleasing structures which also provide the optimum in comfort, safety, durability and design freedom.
Natural daylight is hugely important for the open environment of a stadium. Bringing daylight into the stands whilst protecting spectators from the elements creates a pleasant seating and viewing area. Natural daylight is also vital for creating the best pitches with good quality grass to provide an ideal playing surface. Equally important is the need to reduce the amount of secondary steelwork in order to minimize shadows and provide first class TV screening.
In training and sports facilities, the provision of natural daylight creates pleasant interior environments that enhance mood and energy as well as encouraging optimum performance.
Our dedicated technical experts have worked alongside key architects and designers on an array of high profile projects requiring bespoke canopies, rooflights and vertical glazing solutions for many of the UK's leading sporting venues.
We have 5 decades of proven performance in this sector supplying daylight solutions for stadia and arenas for many sporting types. Rooflight and wall light glazing have been provided to a vast spectrum of building types from sports halls to 70,000+ seater stadia including more than 20 UK football stadiums.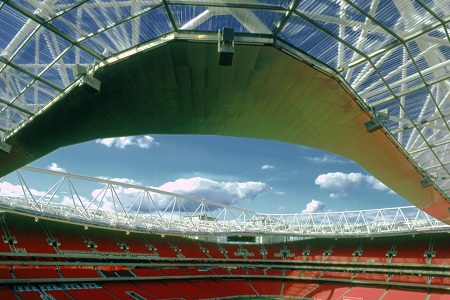 "Innovative daylighting solutions are paramount in the complex design of modern stadia. Working alongside some of the most eminent architects and designers, we are proud to have supplied materials to both local club stadia as well as national, world renowned venues" 𝗖𝗵𝗿𝗶𝘀𝘁𝗼𝗽𝗵𝗲𝗿 𝗖𝘇𝘆𝘇𝘆𝗸, 𝗥𝗲𝗴𝗶𝗼𝗻𝗮𝗹 𝗦𝗮𝗹𝗲𝘀 𝗠𝗮𝗻𝗮𝗴𝗲𝗿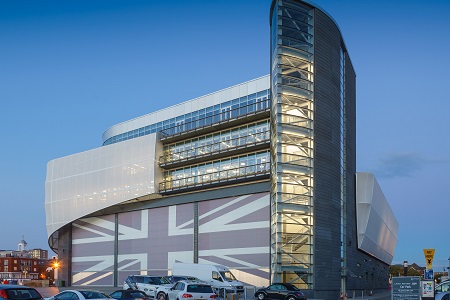 Products that work
We are an industry leading manufacturer supplying solutions for the rooflights and panel glazing markets to enhance the working or living environment.
Technical expertise
Talk to our technical experts for the best daylighting solution for your project
Easy installation
Our products have been designed for quick and easy installation
Sustainability
ISO14001 certified & reducing our carbon footprint with renewable energy sources