Jetrix and Brett Martin collaboration going strong
Plastic Sheets
25.11.2019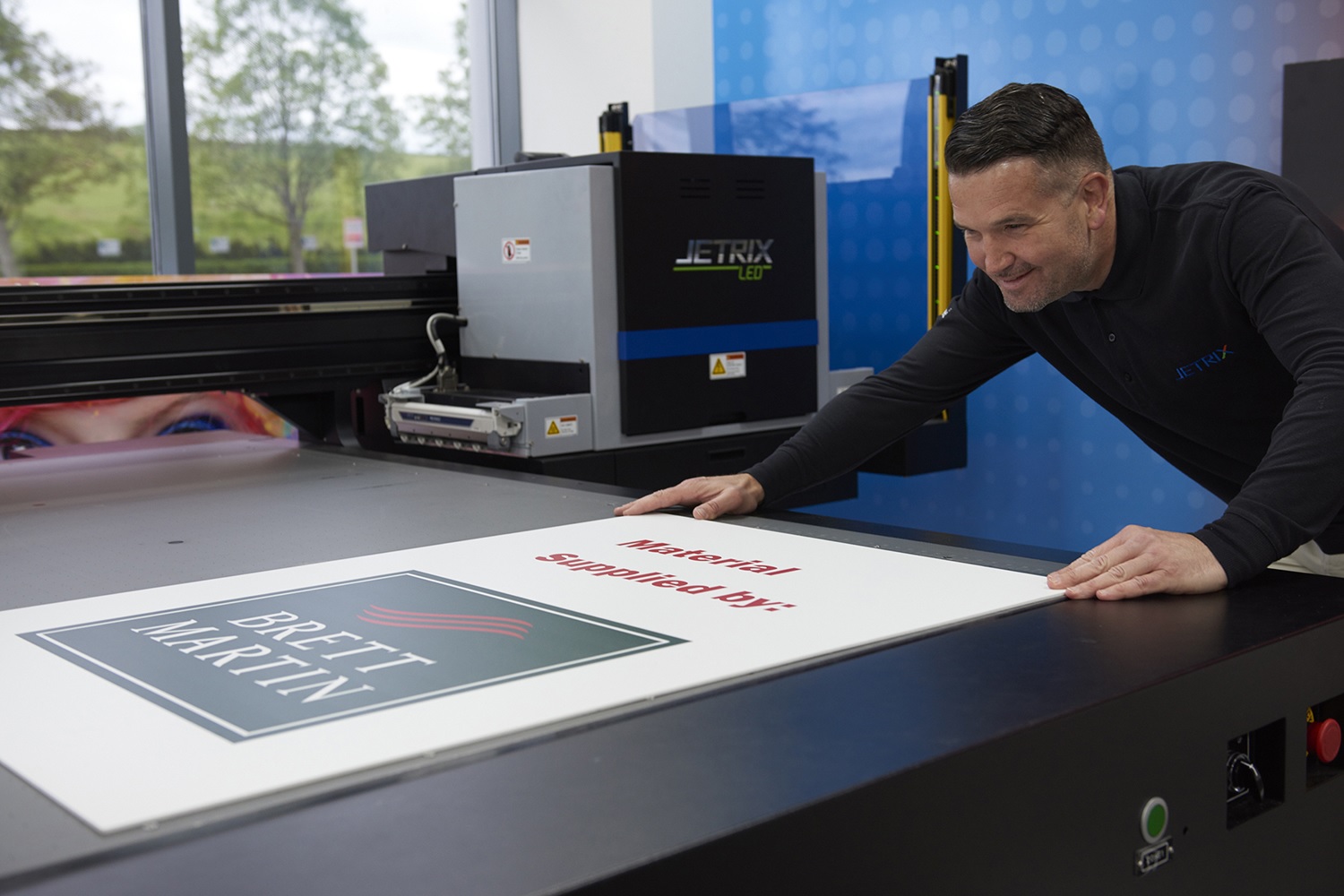 Jetrix Collaboration - Eight Years (2019) and Counting
Based in Witney in the UK, Jetrix, part of InkTec Europe, is one of the leading flatbed printer manufacturers on the market. Ideal for the production of photographic work, quality signage and for industrial applications, Jetrix's UV LED flatbed printer range is designed to provide fast, economical and intelligent solutions. When it comes to proving to potential customers the full capability of its range to produce consistently sharp, bright and visually striking work, the choice of substrate is of paramount importance. At exhibitions and open days Jetrix has, for more than eight years, used Brett Martin's Foamalux range to showcase its range of printers to their full potential.
"We know that our printers deliver outstanding print work, but it's about how we relay that evidence to the market," says Head of Sales at Jetrix, Ben Woodruff. "We regularly hold open days at our resellers, and with the sheer number of people who turn up to these events it's a great opportunity to impress prospects as well as giving our current customers an insight into our other flatbed products.
"It's important to take full advantage of these events and demonstrate our equipment's ability to its full potential. Therefore, we only use reliable, easy-to-handle substrates that will help us produce outstanding print quality.
"For Jetrix, Brett Martin's Foamalux range is the ideal solution."
Brett Martin, headquartered in Northern Ireland, is a specialist in the development and manufacturing of plastic sheets for the sign and display sector. Its extensive Foamalux range is one of the leading brands of foam PVC sheet on the market today and has a deserved reputation for quality and performance.
"Brett Martin's Foamalux range is perfect for direct to substrate digital printing," continues Woodruff. "It has outstanding adhesion capabilities, great colour reproduction and retains the print quality very well too. It has a very crisp edge - there are no dots or drop outs, so it's perfect for a digital printer. What's more, it's very easy to use and when prepared according to the manufacturers guidelines it has strong anti-static properties – an important factor in avoiding any issues with finished print work.
"We mainly use Brett Martin's Foamalux White for demonstration days; its bright white features optimise reproduction and its UV stability ensures that we can achieve outstanding print clarity and quality."
But Jetrix's long and successful partnership with Brett Martin isn't only thanks to the quality of the material it provides. "We've worked with the team at Brett Martin for eight years now and they have always been very helpful and supportive – especially at open house events. They send us the packs in a simple format that make them easy to unload and use for printing on the day," Woodruff concludes.
Perfect Colours, one of Jetrix's resellers, also has high praise for Brett Martin's Foamalux range: "The open days are very important to us," says Jon Telling, Sales Director at Perfect Colours. "Our range of printers need to impress and in order to do so, it's important to get the right substrate for the print job.
"Brett Martin provided Foamalux samples for an open day we held recently and it produced fantastic results. Our customers were hugely impressed, so we were grateful to Brett Martin for helping us to show off the capabilities of the Jetrix range to its full potential."
Duncan Smith, Sales Director at Brett Martin says: "Jetrix has an outstanding range of LED UV flatbed printers – the technology that goes into them and the quality of the output are both incredible. We're delighted that for eight years they have chosen to work with us to demonstrate their full potential at key exhibitions and at open house events. We look forward to continuing to work with them in the years ahead."