Kongsberg Precision Cutting Systems to use Brett Martin's Foamalux Xtra at FESPA 2021
Plastic Sheets
12.10.2021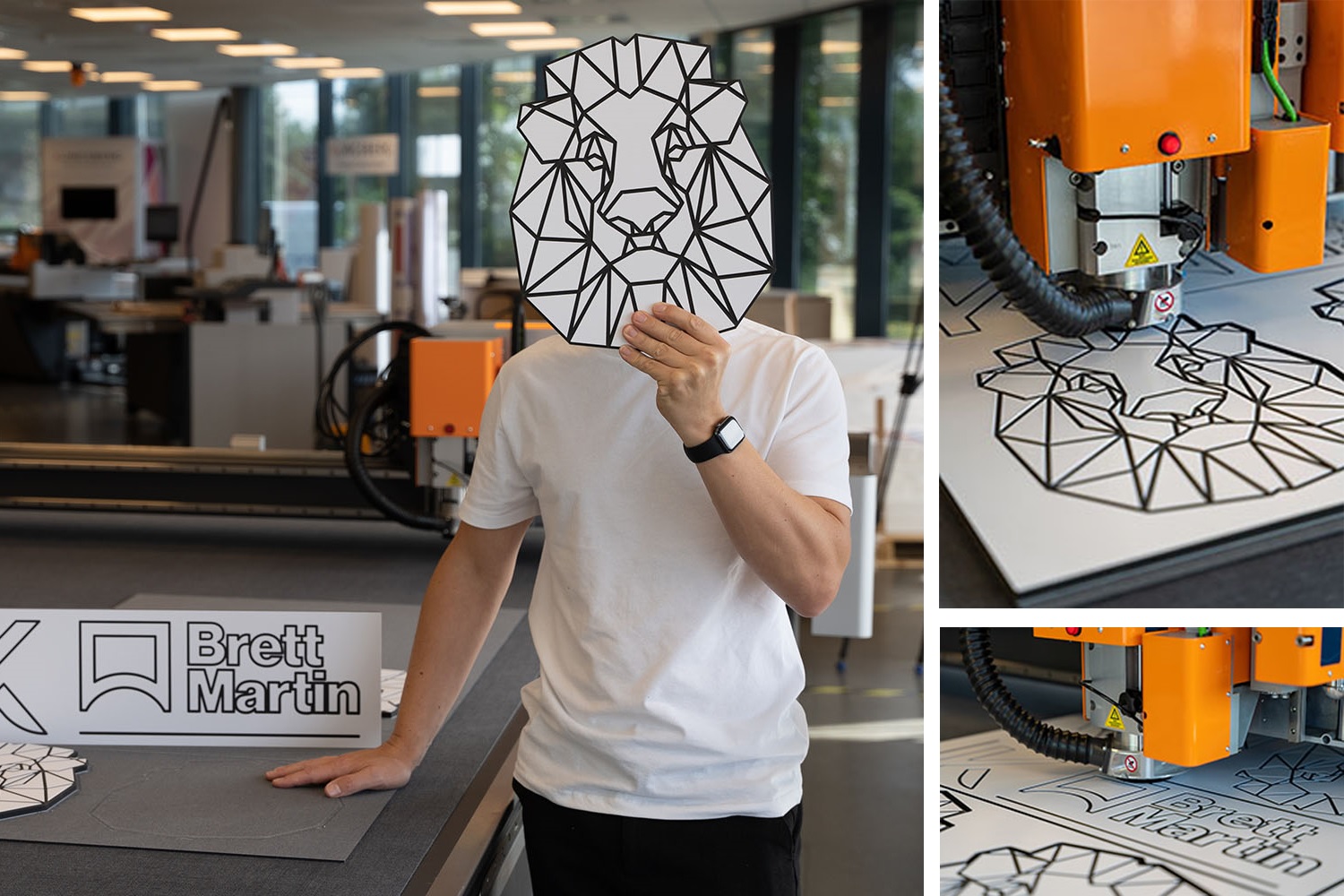 Kongsberg Precision Cutting Systems (Kongsberg PCS) to use Brett Martin's recycled foam PVC sheet, Foamalux Xtra, in on-stand demonstrations at FESPA 2021
Kongsberg PCS, a leading developer of robust and reliable digital cutting solutions to worldwide packaging, signage and display markets, has recently tested Brett Martin's 10mm Foamalux Xtra at its Customer Experience Center in Ghent, Belgium.

The Kongsberg C24 yielded very impressive results when trialling Brett Martin's leading PVC substrate (made from up to 80% reclaimed foam PVC) and the cutting systems manufacturer plans to use Foamalux Xtra as part of its machine demonstrations during FESPA 2021 (Amsterdam, 12-15 October 2021).
Kongsberg PCS has been one of Brett Martin's 'Approved Partners' since 2019. "We have tested many of Brett Martin's materials over the years," says Stuart Fox, President of Kongsberg PCS. "We have previously used a wide range of Brett Martin plastic sheets – including Fomalux Calibre, Foamalux Ultra, Foamalux White and Marlon FSX – to demonstrate the capabilities of our industry-leading digital cutting systems and range of tooling options.
"We have always been very impressed with the variety of products Brett Martin produces. The materials are highly versatile and, importantly, are very consistent when it comes cutting quality. The finish is always exceptional – which is hugely important in proving the effectiveness of our own equipment.
"Our recent test of Foamalux Xtra was the latest in a long line of successful trials for Kongsberg PCS," added Stuart. "We certainly see the benefits of using this particular product, as the contrasting colour of the core to the surface offers a multitude of finishing possibilities for signage and structural design applications. We're delighted to be utilising it for FESPA 2021 and look forward to continuing to work closely with Brett Martin in the years to come."
Duncan Smith, Sales Director at Brett Martin says: "Kongsberg's cutting systems are the result of over 50 years of technical expertise and innovation. As well as being a highly reliable Approved Partner, they are an excellent choice for testing the performance of our plastic sheet products and we're delighted with the results they've seen with Foamalux Xtra and the other products we have tested with them over the years.
"It's a privilege to see our Foamalux products being put to the test at FESPA. We're looking forward to seeing how our products are received by visitors."
The Kongsberg C24 is part of the Kongsberg C Series range of precision cutting tables. Designed to keep up with the faster, wider printers of today and tomorrow, the C24 exceeds the standards in versatility, precision and productivity for super-wide digital finishing for signage, display and packaging applications.
Containing up to 80% reclaimed content, Foamalux Xtra is an environmentally friendly signage and display solution. It comprises a black core containing up to 80% regrind, sandwiched between one or two surfaces of premium quality virgin white PVC, providing the optimum surface for any sign and display application.