New Stand, New Look at the National Self Build & Renovation Centre
Daylight Systems
29.11.2021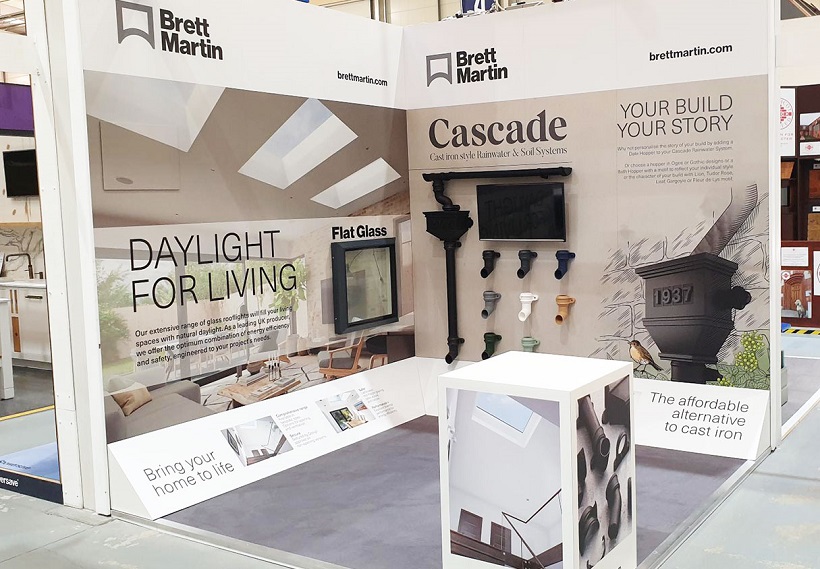 The Brett Martin stand at the National Self-Build & Renovation Centre (NSBRC) in Swindon has just got bigger and better!
Having been located outside the theatre for many years, the Cascade cast iron effect Rainwater system can now be viewed at the new stand 88. The larger stand means visitors can get up close to the product and see first-hand why the gutter and downpipe system is an affordable alternative to real cast iron systems. The display features an installation of the 112mm gutter system, 68mm round downpipe and a date hopper in Classic Black colour alongside downpipe shoe samples in all 8 heritage colours.
With the increased footprint, visitors can also learn about our extensive range of glass rooflights and view an example of our 'Flat Glass' rooflight product which will brighten up any home. These rooflights provide an elegant solution and a comprehensive range is available including options with ventilation and opening.
These high-performance products are on permanent display all year round at the centre. The NSBRC is the only venue of its kind in the UK and Ireland hosting product displays, workshops and other events, all geared to helping self-builders and homeowners with their new build and renovation projects.
The new stand allows us to meet and greet visitors attending the Self-Build & Renovation Shows, which are usually held at the centre in January, May and September. For more information, click here.