Summa joins Brett Martin's Approved Partner programme after successful tests
Plastic Sheets
16.06.2022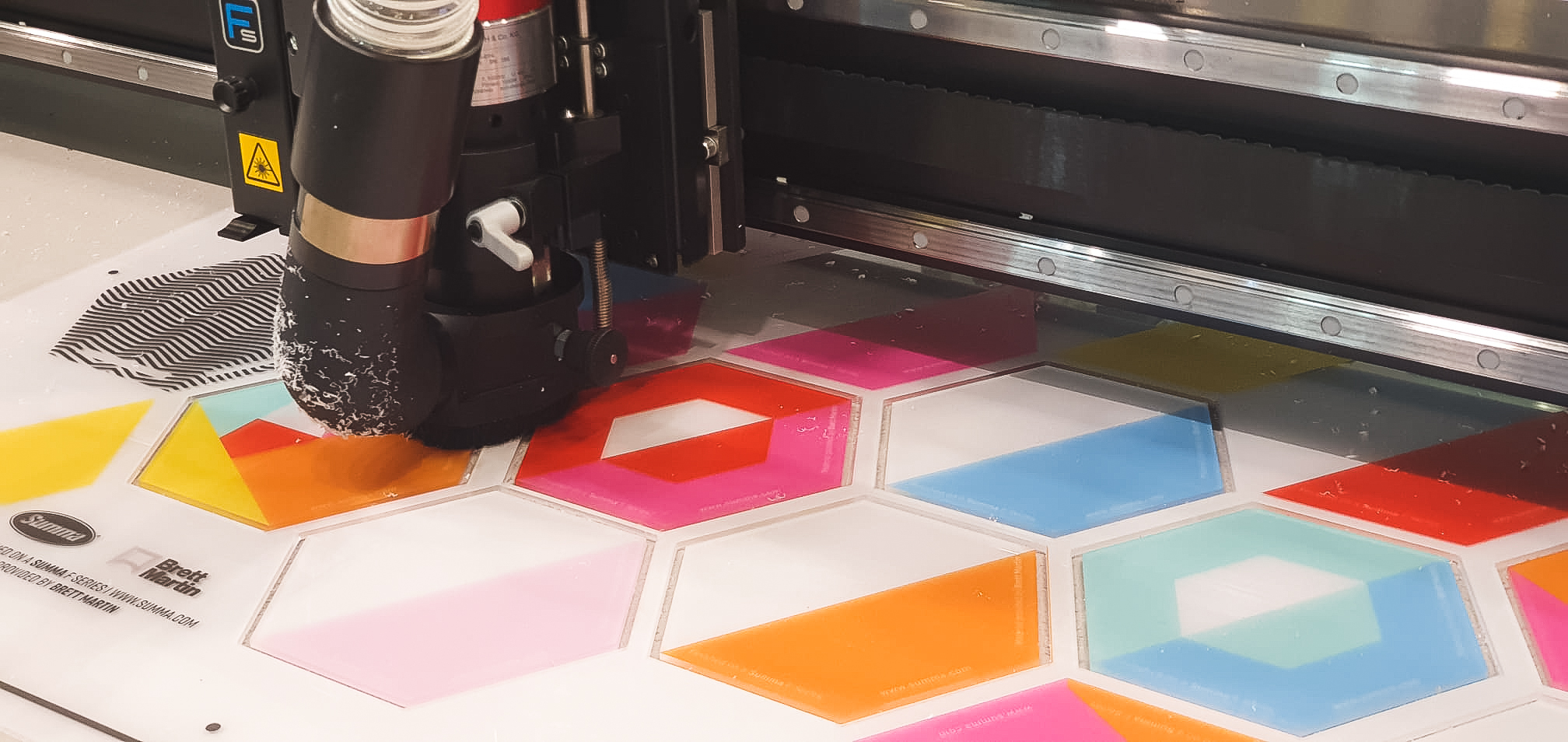 Brett Martin is pleased to announce that global manufacturer of cutting equipment, Summa, has become its latest Approved Partner following trials at Summa's demo centre in Belgium. A wide range of Brett Martin's products, including the Foamalux, Marcryl FS, Marpet-g FS and Marlon FS materials, were successfully tested on Summa's F Series flatbed cutter.
The Summa F Series cutters are available in different bed sizes and with different module and tool options. The Brett Martin material was testing using both the standard router module and the HF (high frequency) router module, which can be specified along with any of the flatbed sizes. During extensive testing, both router modules performed well with a vast array of Brett Martin rigid substrates, all of which are ideal options for sign and display applications.
Following the tests, the companies collaborated at the recent FESPA 2022 in Berlin with Summa processing Brett Martin's Foamalux and Marpet-g FS products live on their stand.
Randi Kerkaert, Summa's Sales Support Manager, who managed the tests, explains the importance of the collaboration, "When we demonstrate our cutters to potential customers, it is important that the substrate we use is consistent, so that we know we will achieve the same quality of cut on every sheet. We get that consistency from Brett Martin. The tests also allow us to generate settings for the Brett Martin range that our customers can access within the GoSign cutter software. This gives them the confidence that the cut will be right first time, every time, when they are using a Brett Martin product."
The companies' collaboration is part of Brett Martin's Approved Partner Programme. The Northern Ireland based plastics manufacturer works closely with cutting, printing and thermoforming machine manufacturers to test and showcase the processing capabilities of its semi-finished product portfolio.
Simona Firth, Product Manager for semi-finished plastic sheets, explains, "It is important for us to work alongside companies such as Summa. We need to ensure that our products can be successfully processed on the equipment which our customers use. By collaborating with the world's top manufacturers of processing equipment, we can ensure that our products are continuously evolving and performing to the highest standards and kept up to date with the latest technology advances."
For more information about Summa's F Series cutters visit www.summa.com.