Brett Martin wins John Sturges' special award for sustainable BioPlus product range
Daylight Systems
09.11.2022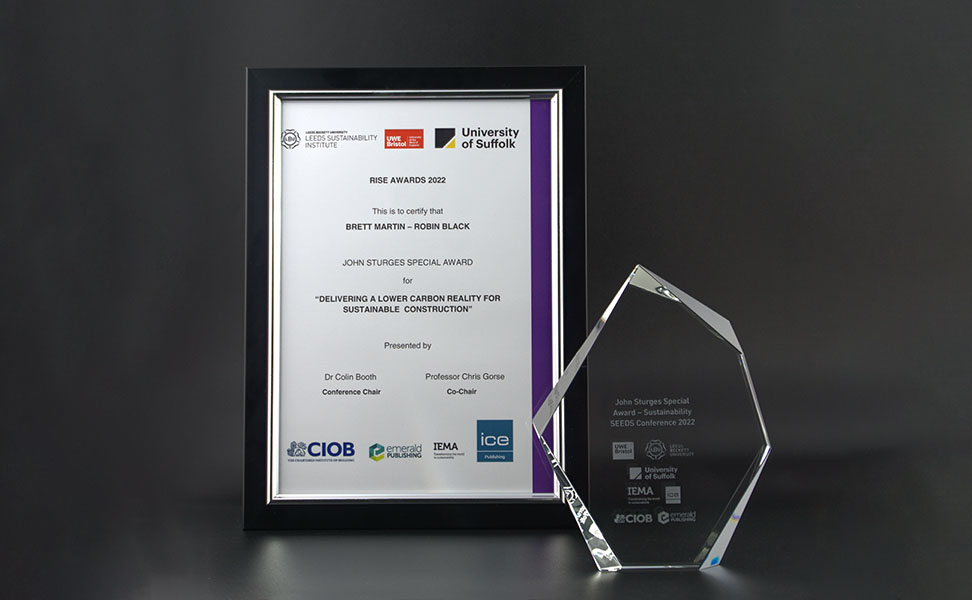 We are delighted to announce that we have been awarded the John Sturges' Special Award for our entry to the 'New Technologies and Building Materials' category at this year's RISE Awards.
The awards were hosted in September by the University of the West of England (UWE Bristol) and were announced at the annual international SEEDs (Sustainable Ecological Engineering Design) conference. We were delighted to be presented with the prestigious trophy and certificate.
Brett Martin was recognised for our innovation in sustainable technology and building materials. We launched BioPlus, our first Bio-based Polycarbonate glazing product in May 2022, which replaces over 70% of the fossil-based material with bio-circular materials, mostly sourced from used cooking oils. The raw material production process reduces carbon emissions by 84% and we extrude the product with 100% renewable energy in a mass balanced process, certified by ISCC Plus.
The highly regarded RISE Awards take place annually, bringing together academia and industry to celebrate those who are making an impact on the way we build and live in the future with new sustainable technologies, products and initiatives. The awards showcase exemplar case studies from the built environment sharing emerging best practice in research, innovation, sustainability and enterprise for new and innovative products, technologies, processes, projects and schemes.
Our winning poster was titled 'Delivering a lower carbon reality for sustainable construction' and details how the company has taken actionable steps towards reducing carbon emissions, and creating sustainable materials through our BioPlus range.

We are pleased to have been recognised for our contributions towards sustainability within the built environment, and we strive to continually innovate to produce ecological practices for the industry.