More Transparent Flatsheet
Marlon FS Hard
Marlon FS Hard is a flat polycarbonate sheet with an abrasion and chemical resistant coating. The coating makes it ideal for the toughest glazing environments – high traffic areas where marks and scratches are inevitable, as well as areas where there is the potential for vandalism and graffiti.
The abrasion and chemical resistance offered by Marlon HS Hard's coating can extend the life expectancy of the plastic in its final application, thereby reducing its lifetime environmental impact.
Light in weight, but with a superior impact and abrasion resistance, Marlon FS Hard provides uncompromised protection to people and property in a diversity of applications including safety glazing, guardrails, machine guards, riot shields, visors, train windows and other glazing applications with an increased likelihood of damage.
Marlon FS Hard is also available in Marlon BioPlus, the ideal choice for projects that aim to deliver the highest standards in sustainability, allowing companies to demonstrate they are at the forefront of the low carbon circular economy.
Marlon FS Hard BioPlus is made with a bio-circular attributed resin in which 89% of the fossil based raw material has been replaced by renewable hydrocarbons e.g. from used cooking oil, which dramatically reduces the impact of the finished sheet on the environment, whilst maintaining the same material properties and ease of processing.
download brochure
Find document
Features and benefits
Double sided advanced abrasion resistance
Excellent impact resistance – 200 time greater than glass
Lightweight - half the weight of glass
Optical clarity and high light transmission
Easy to handle, install and clean
Excellent fire performance
5 year warranty
Available in Marlon BioPlus
100% recyclable

Applications
Safety and security glazing e.g. prison windows
Anti-vandal glazing
Display anti-graffiti protection
Protective visors and shields
Street furniture e.g. bus shelters
High traffic vehicle windows e.g. train windows
Guard rails
Sound barriers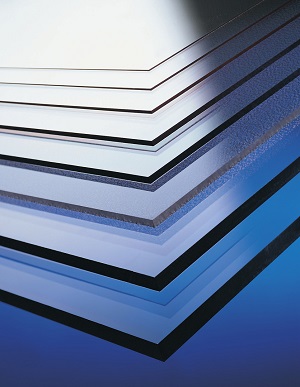 Colour: Clear
Specials*: Special transparent, translucent and opaque options are available on request
Options: Coating on one side only to allow reverse printing, available in Marlon BioPlus

| Sheet size (mm) | Thickness (mm) |
| --- | --- |
| 2000 x 3000 | 2, 3, 4, 5, 6, 8, 10 & 12 |
*Other thicknesses available on request. Minimum order quantities may apply. Please contact Brett Martin for further information.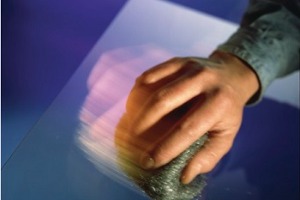 Marlon FS Hard is suitable for the following processes:
Fabrication
Routering, milling, sawing
Guillotining, die cutting
Engraving
Drilling
Laminating
Bonding
Reverse printing
Marlon FS Hard is a high quality, extruded, solid, flat plastic sheet made of polycarbonate with an abrasion resistant coating.
As polycarbonate is a thermoplastic, it is important to take thermal expansion and contraction into account during any installation process.
Marlon FS Hard has been independently tested to various Fire Standards; for the most current certification please contact the Technical Department.
Marlon FS Hard is REACH and RoHS compliant, and 100% recyclable
The abrasion resistant properties of Marlon FS Hard are achieved by a dual sided coating. The cut edges are therefore not protected.
Related information
For more information, download our Product Brochures or Technical Guides. To find out what leading equipment manufacturers say about our products, go to our Approved Partners pages. Or for further sales, technical or marketing information, please contact us.